5 simple steps for a No Elevators Day event in a school
11/03/2020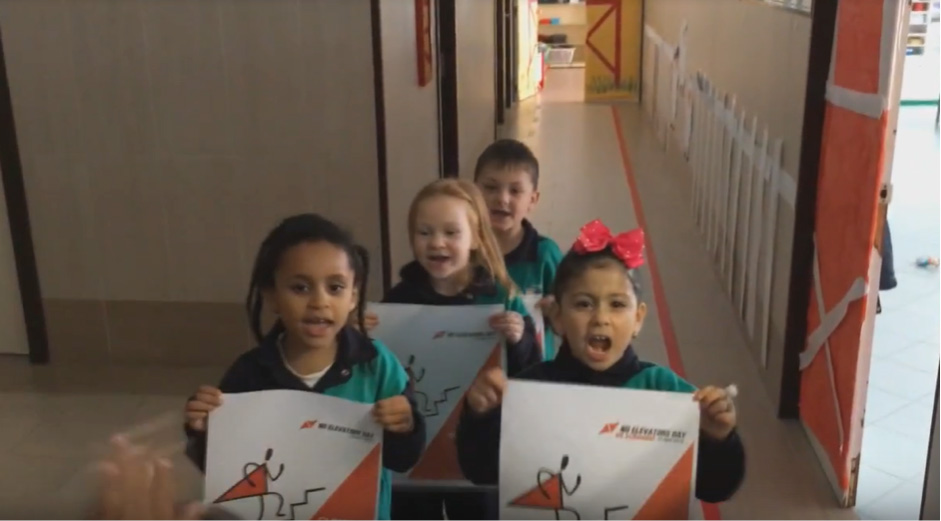 Andreu Daya Remidorff, president of DEPORTE PARA LA EDUCACIÓN Y LA SALUD, organised together with more than 20 schools in Spain No Elevators Day (NED) events in 2018. They did that by creating different ways of teaching maths, music, languages, science, geography, physical education… all around a common source: The stairs. Some schools celebrated NED inside the school and others preferred to go outside to advocate for using the stairs and becoming more active. Because NED offers an incredible amount of opportunities you can organise it the way you want.
Here are some of his ideas for organising a No Elevators Day event at schools that educates students and encourages them to take the stairs:
Teaching different subjects on the stairs instead of the classroom. While educating the students about the benefits of taking the stairs.
Painting the stairs like a piano and playing music on it. Or painting the stairs with number and learn maths.
Counting the number of taken steps of the stairs, and adding the meters climbed by all students and staff to see how high it gets every day. You might climb a hill everyday by adding all your efforts, who knows!
Students can advocate for not using elevators in their own neighbourhood, placing posters at the ground floor. Telling their neighbours the benefits of using the stairs and encouraging them to pursue taking the stairs as a healthier habit.
Going to public buildings such as the municipal building, museums, hospitals etc. to teach the society how to become healthier.
Check out our resources of posters that you can use for your No Elevators Day event. Download them here for free: https://no-elevators-day.nowwemove.com/resources/!
Don't forget to register your No Elevators day event on here: https://no-elevators-day.nowwemove.com/register/
For any inquiries about No Elevators Day please e-mail ev@isca-web.org.