Physical activity and mental wellbeing – a peer-to-peer guide to leading mood-boosting breaks at work
16/02/2023
Rachel Payne, ISCA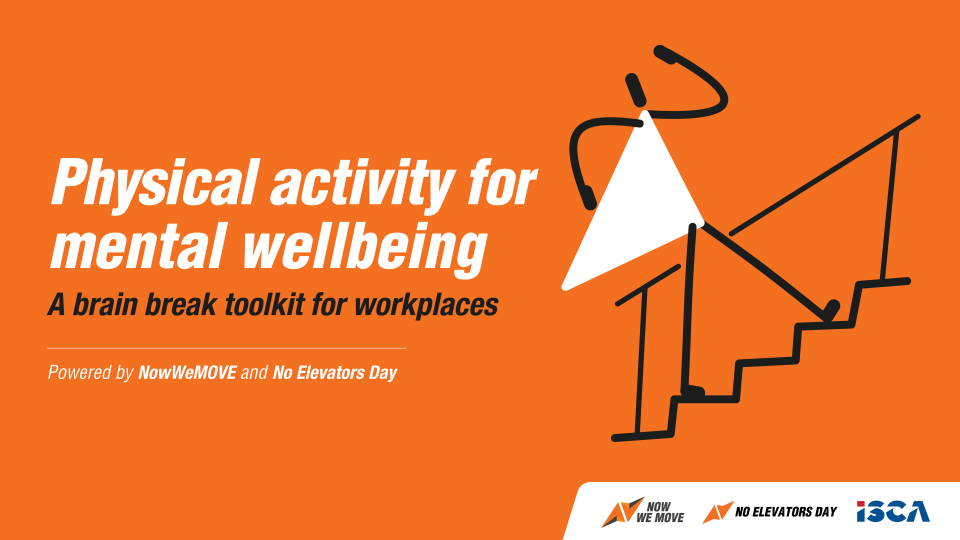 Picture yourself as an activator or MOVE Agent. You could work in any type of setting for any type of organisation. You have heard that physical activity can have a positive effect on mental wellbeing and want to know more. Most of all, you care and you want to act. So how do you start and how do you introduce this sensitive topic to your manager and colleagues?
Let us introduce to you a toolkit that can help! 'Physical activity and mental wellbeing: A brain break toolkit for workplaces' is our peer-to-peer guide for those who want to take the lead. It is your conversation-starter and idea-generator of simple actions that can boost staff energy, mood and productivity. Armed with this powerful resource, you will contribute to creating workplaces that nurture rather than deplete people's mental health.
On the following pages we present the problem, explain why it's everyone's problem and why it's ok for us to talk about it – and how. We present the evidence that our brains and bodies need active breaks from sedentary work and show what these breaks could look like. Plus, we present case examples from successful organisations and workplace activation events like No Elevators Day.
Easy, tiger! Before you start…
Before you shout to your colleagues "hit the floor and give me 30 push-ups!", check our tips about introducing activities, helping people find the MOVEs that they're comfortable doing and getting the approach and timing right. We know that we all have limits when it comes to our (and others') mental and physical health, so we also point to further resources and when it's best to seek professional advice.
Expert input and support
At the International Sport and Culture Association (ISCA), we are not trained experts in mental health, but we do know a thing or two about how physical activity benefits our overall health and wellbeing. And we are lucky to be able to spend time with mental health experts through our projects and broader network. So we're very grateful for the input and feedback we received on this toolkit from our Danish member DGI's consultants Lone Brink Rasmussen and Hanna Christensen (Project Leader for ABC for Mental Health at DGI), and Stine Dragsbæk from our European Week of Sport Denmark partner the Danish Company Sport Association (Dansk Firmaidræts Forbund), who have taught us valuable insights from their work with initiatives such as Act-Belong-Commit (ABC for Mental Health) and workplace activation.
This toolkit is part of a series of resources and online learning materials we have produced with support from an EU Operating Grant in the field of Health.
Learn more about ISCA Health