Webinar: Active Stairs Design for No Elevators Day 2021
29/03/2021
ISCA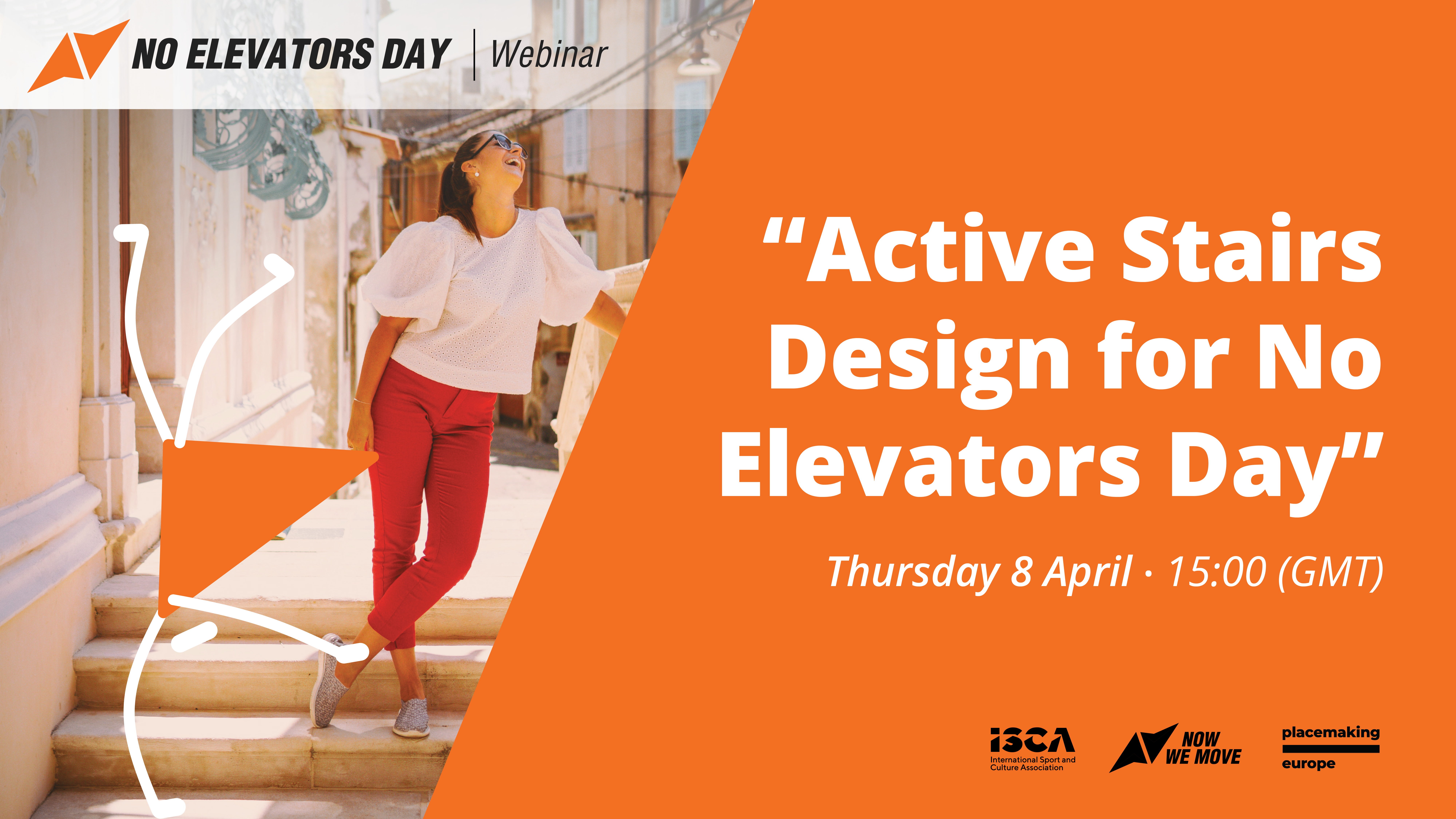 Designers and architects can play an active role in boosting people's physical activity levels by intentionally designing public spaces, streets, and staircases that entice and encourage people to exercise. If you're interested in gaining knowledge and inspiration on the topic, and building your placemaking network, ISCA invites you to join our next webinar "Active Stairs Design for No Elevators Day 2021" on 8 April 2021.
ISCA and Placemaking Europe are joining forces to lead the webinar and a general call to action in 2021 for NowWeMOVE campaign MOVE Agents and the placemaking network to promote physical activity through creative active urban space ideas.
No Elevators Day is an event with a very straightforward idea: to raise awareness about the benefits of physical activity and healthy lifestyles, which can be achieved by doing something as simple as taking/using the stairs instead of the elevator or escalator. However, it may be not that easy for some people – not only because of physical limitations like disabilities or medical conditions. In high-rise buildings, stairs could be inaccessible or just locked, residential stairs are often plain or cramped, the outdoors ones may be dull, unsafe or dirty…
That's why during the webinar the presenters will share insights about why active design is such an important feature of our lives, discuss the link between placemaking and physical activity, share knowledge and practical tips to activate the stairs and give inspiration to placemakers, architects, designers and MOVE Agents to join in No Elevators Day with their creativity and skills.
Click here to register for the webinar
Webinar details:
Day: 8th of April
Start time: 15:00 CET
Duration: 90 minutes
Agenda
Opening by Laska Nenova (ISCA)

Why No Elevators Day? - Laska Nenova (Head of membership and campaigns, ISCA)

Active stairs campaign Canada - Lorenzo Mele (Principal of Attivo Designs)

Active Design by Center for active design - Sara Karerat  (Director of Applied Research at Center for Active Design)

Placemaking for improving physical activity levels - Anna Bradley (Stipo, Placemaking Europe)

Mural brainstorming of how to create the global movement on Stairs Placemaking

Closing and next steps
HOST Laska Nenova (ISCA)
Laska Nenova is the Head of Membership and Campaigns at the International Sport and Culture Association (ISCA). Laska is responsible for sustaining and scaling up all NowWeMOVE activities and events, such as MOVE Week, No Elevators Day, International School Sport Day, and the newest European Mile. In addition, Laska is a board member of the Placemaking Europe, the not-for-profit network of European Placemakers. In this role Laska strives to create better and closer relationships between the grassroots sport sector and the urban development/placemaking sector to facilitate an exchange of knowledge and great ideas. Laska has graduated with BA of Economics, MBA of International Trade and holds certifications in personnel management, inbound and digital marketing, non-formal education training, and group fitness training.
SPEAKERS
Anna Louise Bradley is an urban researcher and project manager at STIPO. At STIPO, she both manages contributions to international cross-knowledge exchanges and further puts forwards research towards the JPI Urban Europe project, PlaceCity, seeking to uncover and define placemaking and public space tools with numerous international partners. Additionally, she acts as Placemaking Europe's secretariat and works to professionalise the placemaking field by researching and identifying recurring key placemaking models for successful implementations.
Lorenzo Mele is the Principal of Attivo Designs in Toronto, Canada. He is a sustainability and active design specialist and applies a human-centred design approach to resource management, sustainability, and transportation demand management. He earned his B.Sc. in Natural Sciences and Diploma in Forest Technology from Lakehead University and has worked for Provincial, Regional and Municipal governments and non-governmental organisations in Canada in the fields of forestry, solid waste, water conservation, transportation, and public health. He is a member of the Ontario Traffic Council – Active Transportation Committee, the board of directors of the Canadian Urban Transit Association (CUTA) and the Association for Commuter Transportation of Canada (ACT Canada).
Sara Karerat is the Director of Applied Research at the Center for Active Design (CfAD), where she leads the organization's translation of public health research into actionable solutions that optimize the built environment for health, both domestically and internationally. Previously, Ms. Karerat worked as a communications associate with the Partnership for a Healthier America, where she developed strategic campaigns to motivate healthy behaviour change among target populations. Ms. Karerat holds a Master of Public Health from Columbia University and a Bachelor of Arts from Hamilton College, where she majored in Public Policy.

We look forward to meet you on 8th of April!
Follow the link to register for the webinar on 8 April 2021 at 15.00 CET.
After registering, you will receive a confirmation email containing information about joining the meeting.