In 2018 500000 bulgarians consciously took the stairs on No Elevators Day
06/03/2020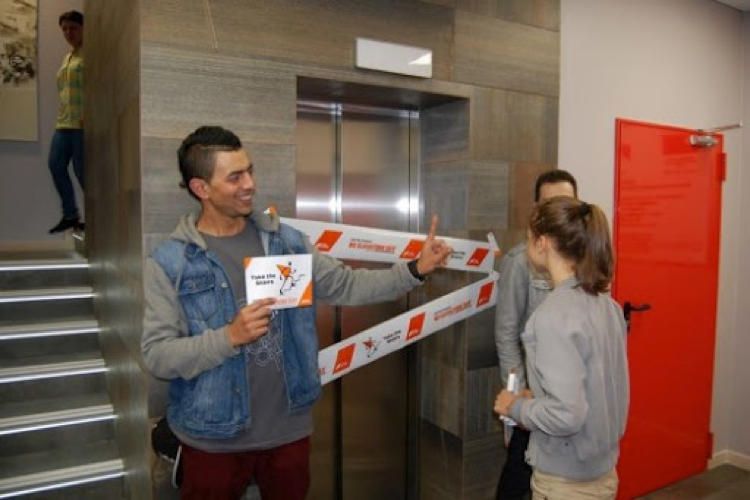 No Elevators Day organiser in 2018 BG Active shows how they encourage people to take the stairs.
In 2018 ISCA member BG Be Active coordinated No Elevators Day and brought together institutions, companies, media and public figures in Bulgaria to raise public awareness of the importance of daily physical activity. Together they reached 500000 Bulgarians who have participated in the initiative.
The initiative was supported by some of the largest universities in Bulgaria, including the University of National and World Economy, Medical University Varna, Shumen University, Technical University in Plovdic and Sofia and Thracian University Stara Zagora. The universities promoted taking the stairs as an easy way to add physical activity to the days of their students.
The event also found a lot of supporters in the business sector. One of the largest and most socially responsible companies in Bulgaria, like Mondoole, NN, Tellus, VM WARE, Doverie, Eli Lilly, Max Europe supported No Elevators Day in 2018. All of them sealed off elevators and escalators in their office buildings and shared the spirit of the day with all their employees and other companies in the same work space.
Do you want to contribute to the health of people by organising a very easy event? Organise a No Elevators Day event on the 29th of April that creates more awareness for healthier lifestyle decisions by promoting taking the stairs. Together we can make the world a more moving place!
We have written an article that gives you tips and can inspire you for your own No Elevators Day event, you can find it here: https://no-elevators-day.nowwemove.com/tips-for-organising-ned/
Check out our resources of posters that you can use for your No Elevators Day event. Download them here for free: https://no-elevators-day.nowwemove.com/resources/!
Don't forget to register your No Elevators day event on here: https://no-elevators-day.nowwemove.com/register/
Source: https://hype.news/isca-international-sport-and-culture-association/500000-bulgarians-will-choose-the-stairs-on-25-april
For any inquiries about No Elevators Day please e-mail ev@isca-web.org.